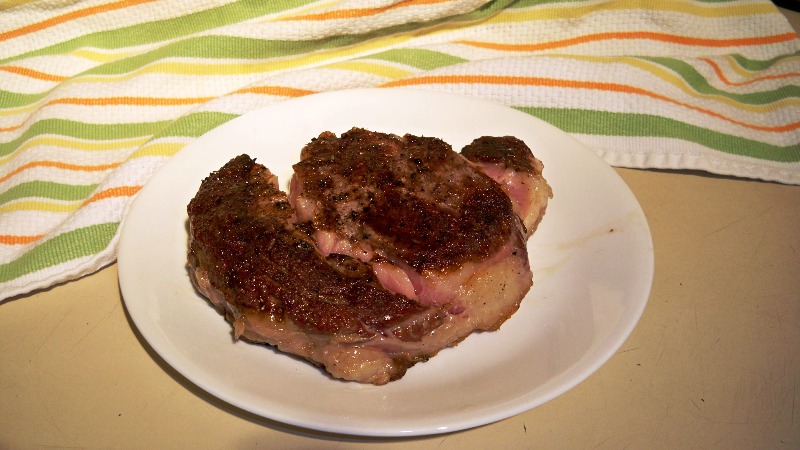 Click on picture for more images.
Rinse steaks and pat completely dry with paper towels. Liberally season both sides of the steaks with kosher salt and large-sized fresh cracked black pepper. Although I use my convection toaster oven, below I show temperatures for both a traditional oven and a convection toaster oven.
For both methods, place the steaks on the rack of a shallow two-tiered roasting pan to allow air flow around the steaks. Place an oven proof thermometer in the center of the thickest steak. When using a convection toaster oven, set the temperature to 160°. For a traditional oven, set the temperature to 275°. Cook undisturbed until the inner temperature reaches 95° for rare, 20-25 minutes or, 100° for medium rare, 25 to 30 minutes. Do not even try this if you eat your steaks well-done (which ought to be crime in my own opinion).
Heat 1 tablespoon canola oil in a large pan over high heat until smoking. Carefully place steaks in the pan and sear until well browned and a crust is formed, about 1 1/2 to 2 minutes. If the fond (brown bits in the bottom of the pan) starts to burn, reduce the heat. Turn steaks over and sear again for about 1 minute. Reduce the heat in the pan and carefully brown all other sides of the steaks, about 30-45 seconds each side. Transfer to a plate, cover with foil and allow the meat to rest for 10 minutes while preparing the sauce.
Mushroom-Wine Sauce
Pour off remaining fat from the steaks. Heat 1 tablespoon canola oil over medium heat and add mushrooms. Cook until liquid evaporates, about 5 minutes. Add shallot and cook until softened, about 1 minute. Increase heat, add wine and chicken broth and scrape up the fond. Simmer rapidly to reduce to 1 cup, about 6 minutes. Add balsamic vinegar, mustard and juices from the resting steaks. Thicken for 1 more minute. Remove from heat and stir in butter, 1 piece at a time (mounting the sauce). Stir in the fresh thyme and season to taste with salt and pepper. Serve over the steaks.