Pommes Frites, which literally translates as Fried Potatoes in French are simply a classic bistro dish. I will admit that the first time you make these, you may ask yourself what am I doing when I can buy a bag of frozen French fries from the freezer section at the market. Let me say, once you experience the exquisite flavor and texture of Pommes Frites, you will understand. For a treat, make a batch of our Béarnaise sauce to dip them in instead of ketchup.
Preparation Time: 1 hour Serving Size: 4 (may be halved)
2 to 4 evenly sized russet potatoes
cider vinegar
water
4 quarts peanut oil
sea salt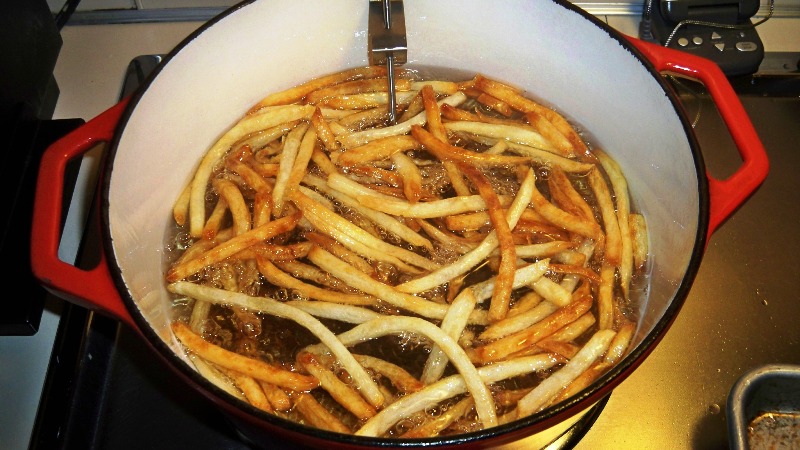 Click on picture for more images.
Peel potatoes and use a mandolin to cut into 1/4 inch fries. If you do not have a mandolin, slice the potatoes length-wise into 1/4 inch slices. Lay the slices flat and then cut into 1/4 inch sticks. Place in a large bowl of water with a couple tablespoons cider vinegar and let sit 30 minutes. Heat oil to 260° over medium heat in an uncovered, heavy Dutch oven. Depending on the size of your Dutch oven, you will probably have to cook the fries in batches. Drain and thoroughly dry your fries in clean dish towels. Carefully add to the oil and fry for 4-6 minutes, until just starting to color on the edges. The potatoes will be very tender and delicate and break easily. Use tongs to remove to a cooling rack set on a baking sheet. Bring oil back up to 260°, drain, dry and fry the rest of the fries. Allow the par-fries to sit and come to room temperature.
Once the fries have come to room temperature and you are ready to serve, bring the oil back up to 350°. Fry in batches, if necessary, until crisp and golden brown, about 3 minutes. Toss in a large bowl with sea salt before placing on their original cooling wrack while preparing other batches. Try serving with our Béarnaise sauce to dip them in instead of ketchup. A taste from heaven, Yum!!!