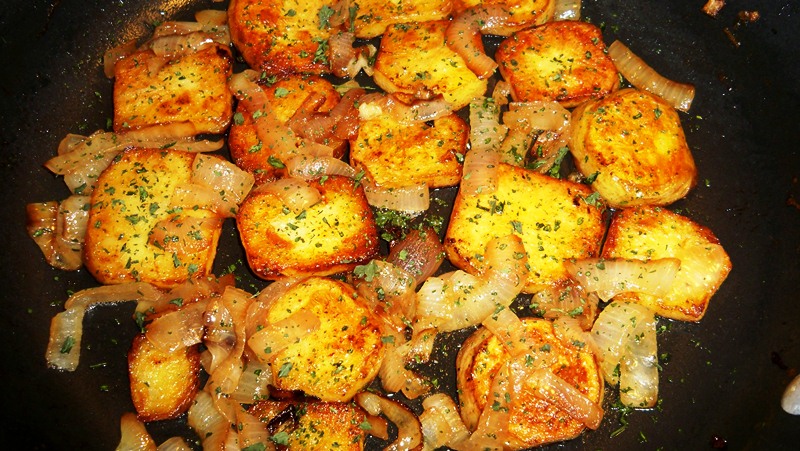 Click on picture for more images.
Heat 1 tablespoon butter in a 12 inch heavy nonstick skillet over medium-high heat. Add onion and 1/4 teaspoon salt and stir to coat. Sauté three minutes until onions begin to soften. Lower heat to medium, cover and cook 12 minutes, stirring occasionally, until onions are light brown and soft. Add water when pan gets dry. Turn off heat, transfer to a bowl and leave skillet as is.
While onions cook, use a microwave to melt 1 tablespoon of butter on high in a large microwave safe bowl, about 45 seconds (know your microwave!). Add sliced potatoes to the bowl and use tongs to toss and coat each slice. Microwave on high for about 6 minutes, tossing halfway through until potatoes are opaque and slightly resist when bent. Remove, toss and set aside.
Back in the onion skillet, heat 1 tablespoon butter over medium-high heat. Add potatoes and distribute evenly across bottom of pan. Cook 3 minutes without stirring to brown potatoes on the bottom. Use tongs to carefully stir and flip the potatoes. Cook 8-10 minutes more, stirring and flipping every 2-3 minutes, until potatoes are well browned and tender. Sprinkle with salt and pepper to taste.
Add onions to potatoes and stir gently. Heat through 1-2 minutes. Turn off heat and stir in parsley. Serve.
*For a more gourmet look, trim the potatoes into five or six sided shapes before slicing.