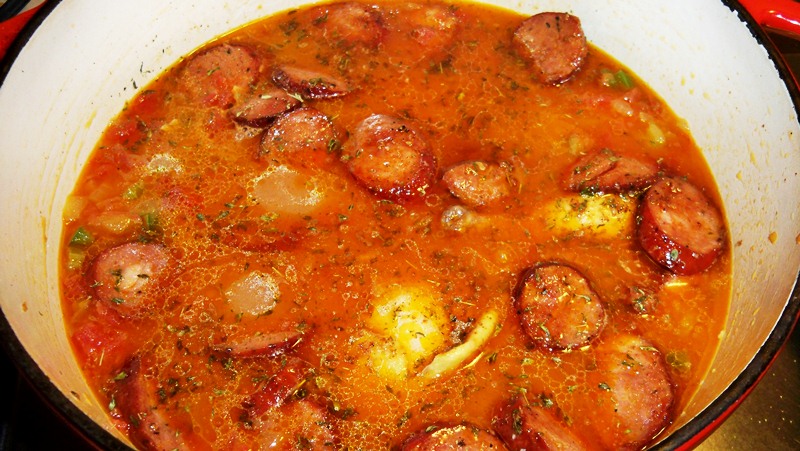 Click on picture for more images.
Peel shrimp and place the retained shrimp shells in a small pot. Devein the shrimp and place in a bowl. Cover with a wet paper towel and store in the refrigerator until needed. Add enough water to the pot to just cover the shells, usually about 1 cup. Cover and simmer slowly over low heat without boiling for 20 to 30 minutes. Strain out the liquid, set aside to cool, and use as shrimp stock in the recipe. Discard the shells.
Wash chicken thighs and pat dry. Sprinkle all sides of the chicken with cayenne pepper. Heat the canola oil in a large Dutch oven over medium heat. Sear the chicken thighs 4 minutes each side; remove to a plate. Add the sliced sausage and cook until browned, about 3 minutes. Remove to the plate with the chicken and set aside.
Add the yellow onions, green pepper and celery to the now empty Dutch oven and sauté until the vegetables start to soften, about 3 to 5 minutes. Add the garlic and stir until fragrant, about 1 minute, then add the thyme. Stir in the rice and cook for about 1 minute being sure to coat all of the rice grains. Crush tomatoes in a medium bowl, retaining juice, and stir into the pot. Add the clam juice, shrimp stock and bay leaves; stir well.
Position the resting chicken and sausage evenly in the pot. Pour in any juices that may have accumulated on the plate. Without stirring, bring the mixture to a boil. Add the lid to the pot; turn the heat down to low and allow to simmer, undisturbed, for 15 minutes. After 15 minutes, quickly arrange the shrimp evenly in the pot without disturbing the rice. Replace the lid and continue cooking on low for 15 more minutes. Remove from heat. With a fork, gently fluff the rice while adding the green onions and hot sauce. Serve up and enjoy!