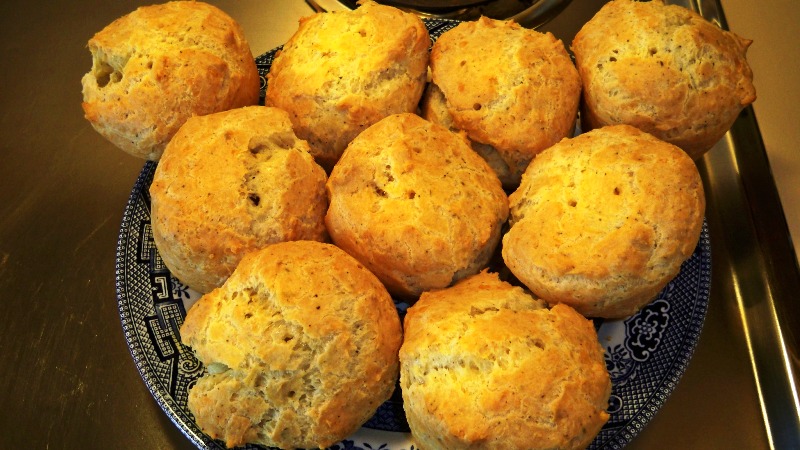 Click on picture for more images.
Heat oven to 420°. Place water, butter and salt in a large saucepan. Bring to a boil, then turn heat to medium. Working quickly, pour in all of the flour at once and stir with a wooden spoon. Stir until smooth and the dough has pulled away from the sides of the pan, about 1 minute.
Place into the bowl of a stand mixer and mix on low speed with the paddle attachment for 1-2 minutes to cool slightly.
Add the eggs, one at a time, scraping the bowl often. Beat on low speed until the mix comes to room temperature so that the cheese will not melt when added next. Add the black pepper, thyme and cheese.
Heavily spray every other cup in two 12 cup muffin tins. Scoop good 1/3 cup amounts of mixture into coated muffin tins. Use a spatula to smooth the tops before placing the tins on a cookie sheet. Bake on the center rack for 15 minutes; turn oven down to 375° and bake an additional 15-20 minutes, or until medium brown all over. Do not remove too early, or they will fall. They may split in the middle, which adds to their rustic charm. Use a toothpick or skewer to poke a few holes in the popovers as soon as they are removed from the oven to vent the remaining steam.
For a half batch of popovers, use these measurements but follow the same procedure above. This makes 6 to 8 popovers.