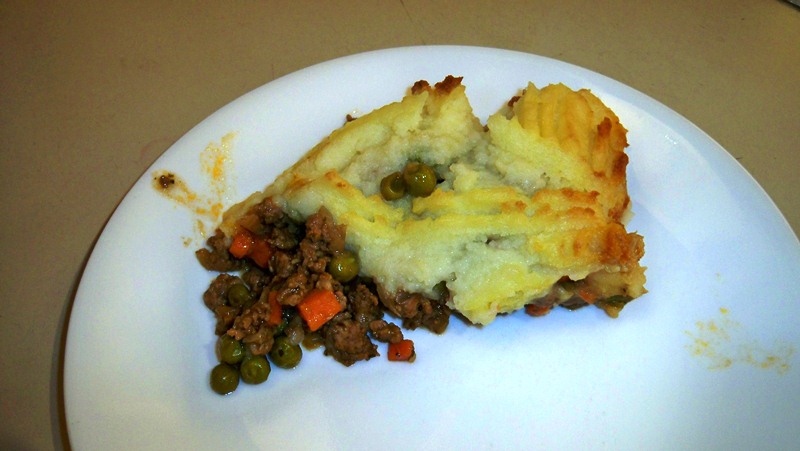 Click on picture for more images.
Bring peeled and quartered potatoes to a boil in well-salted water in a large pot. Simmer over medium heat for about 20 minutes. Prepare onions, carrots, rosemary and parsley while the potatoes cook. When potatoes are fork tender, drain thoroughly and mash with 6 tablespoons butter and enough milk to create a firm consistency. Set aside to cool while preparing the meat mixture.
Heat canola oil over medium-high heat in a large skillet. Add onions and carrots and sauté for 2 minutes. Add ground lamb and continue to sauté, breaking up the lamb until it is browned and vegetables are softened, about 8 minutes. Drain the mixture in a colander set over a bowl and then return to the pan. Stir in the beef broth, tomato paste, rosemary, parsley, Worcestershire sauce and A.1. steak sauce, if using. Simmer over medium heat until liquid is reduced and mixture is thickened slightly, about 20 minutes. Stir in the frozen peas and simmer 10 more minutes. Remove from the heat and set aside to cool. Heat oven to 375°.
When both the potatoes and meat mixture are both cooled, pour the meat mixture into a large pie pan, or any 2-quart casserole. Spoon the cooled mashed potatoes on top of the meat mixture and use a fork to make decorations in the potatoes. Bake until potatoes are golden brown and crusty on top, about 35-40 minutes. Broil off the potatoes for a few minutes, if desired.
* If you cannot find ground lamb, look for lamb shoulder cuts such as chops. Remove the bones and grind in your food processor to the consistency of ground beef. Shoulder cuts have the perfect ratio of fat to meat for ground lamb.