1/4 cup extra virgin olive oil
8 garlic cloves, roughly chopped
3 pounds fresh tomatoes, peeled and seeded

-or-

35 ounces canned whole tomatoes in juice
crushed red peppers
10 leaves fresh basil, thinly sliced*
1/4 cup dry red wine
sea salt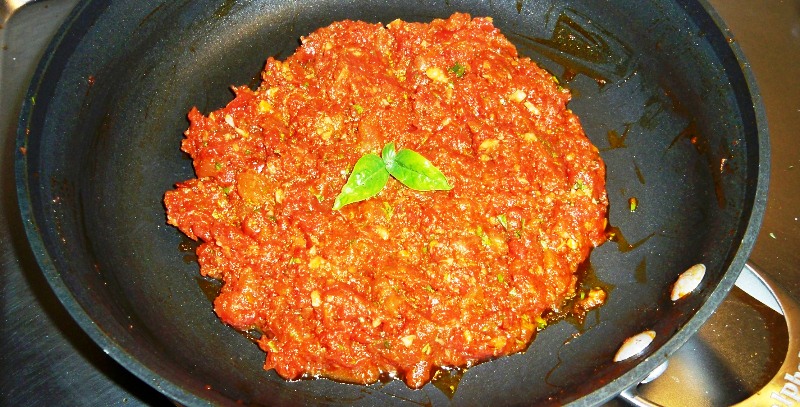 Click on picture for more images.
If using fresh tomatoes, to peel them, bring water to boil in a large pot. Meanwhile, use a paring knife to core the very tops of the tomatoes. Now make an "X" at the bottom of the fruit, just enough to break the skin. Have a sanitized sink or very large bowl full of ice water ready. Drop tomatoes in boiling water for no more than 1 minute. Immediately remove to ice water for at least a minute. Use the "X" at the bottom of the tomatoes to help peel the skin off and discard. Halve tomatoes and scoop out the seeds. Crush tomatoes with your hands into a bowl, retaining as much of the natural juices as possible. Set aside. If using canned whole tomatoes, gently crush tomatoes into a bowl, reserving canned juice.
Heat oil in large sauté pan over medium heat. Add roughly chopped garlic and sauté until just starting to brown on the edges but DO NOT LET BURN, about 2 minutes. It's not too common to sauté garlic for this amount of time, but it is crucial to the overall flavor of the sauce.
Add crushed tomatoes, of either kind, to the heated garlic oil and stir well. If using fresh tomatoes, add all the juices; if using canned tomatoes, add most of the juice. When tomatoes come up to heat, stir in sea salt to taste and the crushed red peppers. Lower heat to allow a good simmer, but not a boil. Cook until it just starts to thicken and change to a darker color, at least 45 minutes. Stir in red wine. Continue cooking until thickness desired, usually 10-15 minutes longer. Five minutes before cooking is done, add fresh basil and stir. Adjust seasonings and use as you wish.
*Chiffonade is the French term for thinly sliced items. The easiest way to chiffonade basil is to stack leaves on top of each other. Then roll long ways, like a cigar, and cut thin slices across the roll.