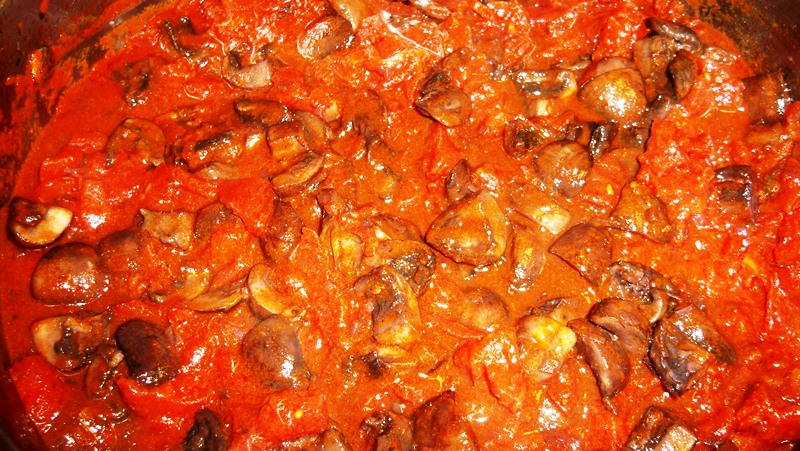 Click on picture for more images.
Heat 1 1/2 tablespoons olive oil in a large sauté pan over medium heat. Add shallot and sauté until soft, about 5 minutes. Add quartered mushrooms and lower heat to medium-low. Cook, stirring occasionally until the mushrooms have lost most of their moisture and have shrunk in size. Stir in the wine, bring to heat and simmer 5 minutes. Carefully remove to a large bowl and set aside.
Wipe out pan with a paper towel and place back over medium-low heat. Add 1 tablespoon olive oil and the cubed Pancetta. Cook slowly, stirring often, until crisp, about 20 minutes. Use a spoon to remove all but 1 tablespoon of the flavorful rendered fat. Add mushroom mixture to the pan and stir. Set the bowl aside.
If using whole tomatoes packed in water, drain the tomatoes through a colander placed in the now empty mushroom bowl. Crush by hand the tomatoes in the colander, collecting the water in the bowl. Add to the mushrooms and pancetta along with half of the reserved tomato water.
If your tomatoes are packed in tomato sauce, crush them in the bowl collecting the tomato sauce too. Add the crushed tomatoes and sauce to the mushrooms and pancetta.
Add the crushed red peppers. Stir well and bring to a slight boil. Immediately lower the heat to medium-low and simmer for 15 minutes. Add the tomato sauce and stir. Bring back to heat and continue simmering over medium-low heat, about 30 minutes more, adding reserved tomato water (or water if using tomatoes packed in tomato sauce) as necessary to avoid sauce from becoming too thick. When the sauce has darkened a bit and reached desired consistency, add the basil and black pepper. Cook 5 more minutes. Turn heat off and add the cheese. Stir and let stand 5 minutes. Serve over cooked fresh fettuccine.